At xcomufo, we take the protection of players' property very seriously. We use three methods of property protection: Residence, Precious Stones, and Lockette. Residence is only available to moderators and can be used to protect common areas such as spawn. Precious stones is a self-serve method of protection for all players. Lockette is used to protect chest and furnace contents as well as doors.
Precious Stones
(for protecting land and buildings)
A discourse-length description of the plugin can be found
here
.
You can find most of the commands available for your use
here
.
We have 4 blocks available for everyone to use: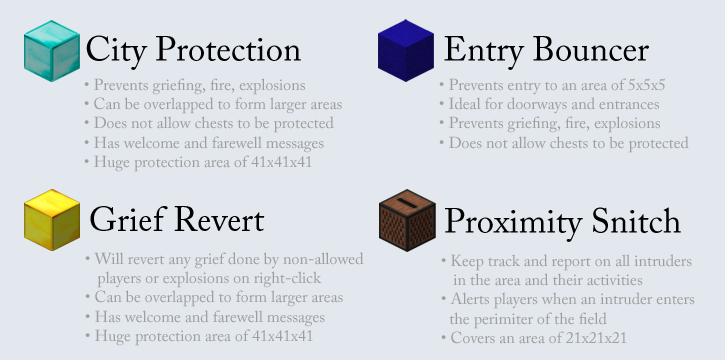 Please note:
Diamond blocks are used for "City Protection" but can in fact be used to protect anything: your home, crop field, XP farm/mob spawner, etc., as well as collective areas such as towns and cities.
You must still lock your chests with [private] signs.
That blue block for Entry Bouncer is a lapis lazuli block.
The proximity snitch is a note block.
You can allow other players to enter and interact with your protection fields by using the /ps allow and /ps allowall commands.

Example: if you want to allow Northking123 into one of your protected zones, stand inside that specific zone and type: /ps allow Northking123
Example: if you want to allow Northking123 into ALL of your protected zones, stand inside any of the zones and type: /ps allowall Northking123
You can physically view the size, shape, and limit of your protected zones by typing /ps visualize
Lockette
(for protecting chests, furnaces, and doors)
In brief, you place signs in front of chests, doors, and furnaces and type:
[private]
as the first line sign. Click OK and the sign should put itself on the chest/door/furnace. You will be the only one who can access the contents unless you add other players' names to the sign (one per line). You can also
view this video
if you want to see how it's done, or ask another player or moderator for to do it.
Remember that the loot dropped by your dead body is fair game for anyone to take as long as they can reach it. As always, if you need help, ask another player or moderator who is online, or post in the general chat forum.